If You Want a Steak . . . Speak-a da English!
Last week I was in Philadelphia . . .
And, among all of the sights the city has to offer,
there was only one in particular I just had to see . . . and smell . . . and taste . . . before leaving.
I wanted a
real
Philly Cheesesteak.
Little did I know that as I sat on the corner of 9th and Passyunk in the City of Brotherly Love on a rather cold and rainy Saturday afternoon in June,
the very establishment I was enjoying was becoming embroiled in controversy of its own making.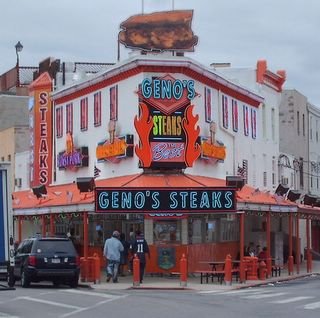 Little did I know that Geno's was . . . [gasp!] . . . a nasty bitter racist and
pro-American
.
Had I known at the time, of course, I would have taken a picture of the sign that has brought so much trouble upon the man.
It is a simple sign, close to the order window, that reads:
"This is America. Speak English."
Now, if you have never eaten a real Philly where real Philly's are born at the corner of 9th & Passyunk . . . well, then maybe you wouldn't understand.
You just can't waste time when ordering a Philly by worrying about the translation. You step up, you quickly and precisely place your order ("Wiz Steak, wit onions 'n mushrooms"), and then you hand him the money (which has been calculated with tax on the sign already so as to make a nice simple transaction).
Listen, again, you don't waste time.
You have to move on to a second window before you can even order your drink and fries.
So how hard could it possibly be to speak English when ordering a Philly???
But now the Philadelphia Human Relations Commission is threatening action . . . because?
Joey Vento, the owner, is apparently discriminating in a public place.
Again . . . because?
He wants to understand you when you order your "Steak wit provolone, no onions."
Geno's is a wonderful place. And most people I talked too prefer Geno's.
But if you are too damned stubborn to learn "Steak wit American, wit onions" in English (even I learned to say it in a South Philly accent),
Then just go on across the street to Pat's. And I'm sure they'll accomodate you there.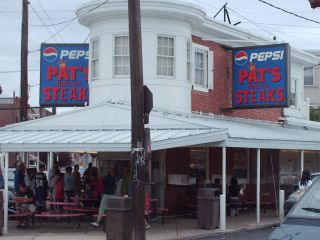 These pictures I took last weekend. And I am telling you, the Liberty Bell
doesn't have a thing
on a real Philly if you are trying to budget your time.
And, if you are curious, Mrs. Misery and I preferred Pat's.
The grease just dripped right off the bun. And, besides, Pat's was the place where the
very first
Philly was made in 1930. So you gotta give it mad respect, dawg.
Doesn't it look delicious?!